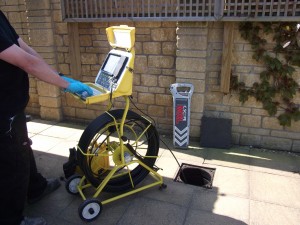 What does a pre-purchase drain survey include?
It detects the;
Drainage run positions.
Condition of the drainage runs.
Material of the drainage pipes.
Indication of historic problems.
Sharing of drains with neighbouring properties.
Where individual ownership starts and ends.
Once the pre-purchase survey has been completed our written findings are forwarded to you enabling them to be passed on to your solicitor if required.
Why should you have a pre-purchase drain survey undertaken?
If your property is on mains sewage you will still have responsibility up to the property boundary or where single ownership starts.   This may be a limited amount of drainage or it could be extensive and therefore costly to repair or replace after you have agreed and completed the sale.
An understanding of your future responsibilities can save surprise repair and legal fees in the future.
If the property is off mains and on a private waste water system, is the property compliant with current and future regulations?  Can the system take any additional loadings?
Why should The Drainage People be your first choice?
Our understanding and awareness of;
Structural implications to your property.
Conveyancing requirements.
Building control requirements.
Environmental law.
Years of experience in drainage installation and maintenance gives us a complete understanding of the drainage issues to look out for when buying a property
To arrange a survey, contact our team today.