Grease and Fat Traps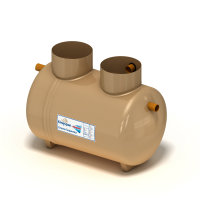 Grease and fat can cause huge problems for plumbing and drainage systems. For homeowners and catering businesses, this is an immediate problem which can lead to blocked pipes while further down the line problems are generated in main sewers.
Large volumes of grease and fat can inhibit the biological process that treatment plants use to treat wastewater, meaning that the outflow does not meet required standards.
In some cases the best way to protect your drainage system is to remove grease and fat before it can solidify, cause blockages or enter treatment systems. The Drainage People will install a grease trap for this specific purpose.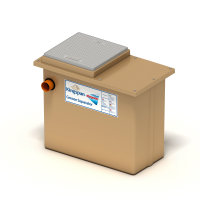 Kitchen Wastewater Management Equipment
Our grease traps and interceptors will separate large volumes of grease and fat from your kitchen wastewater, preventing it from entering your drainage system. This grease can then be removed and safely disposed of with no risk to your plumbing or drainage system.
The Drainage People can install domestic and commercial grease traps, and explain how to operate these interceptor systems properly. Simply get in touch with our experts today, and we'll recommend an interceptor system for your property.
Call us now on 01225 430 628  and we'll discuss your requirements or email via our contact page to request a call from our specialists.