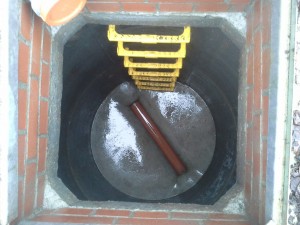 Wastewater and Surface Water Drainage
If your drainage system isn't working correctly, a panic decision in the method of repair made by an unqualified tradesman could lead to nothing but problems in the future. Some solutions are merely a sticking plaster that leads on to make a bad situation worse. In the event of a wastewater or surface water drainage problems, you need long term thinking.
The Drainage People will bring that long term strategy.
Where required we'll liaise with the local authorities, bring proven methods and unbeatable knowledge, and fix your drainage problems for good.
Wastewater Drainage
Wastewater problems can be a social nuisance or even a health hazard. Suitable disposal invariably means more than just installing underground pipes.
We'll fully inspect your existing drainage system, and provide you independent, unbiased advice on the installation of the following systems:
Manhole installation and maintenance
Soakaway construction (including high-level or gravity-fed soakaways)
Connection of your property or development to sewers
We are also able to design and create a bespoke sewage pumping system where a gravity system isn't suitable. To discuss your requirements, contact us.
Clean and Surface Water Drainage
Wherever you live, in a town house, a rural village, or the suburbs, drainage can be a challenge. And this is a challenge made more difficult by the local terrain and topography.
The Drainage People will meet these challenges head on, with a range of solutions designed to prevent damage caused by the accumulation of ground or surface water leading to egress to your property or attrition to its structure. Our experts will investigate your property, and recommend a drainage system. Such as:
Upgrades to your existing soakaway or drainage system
Bespoke water drainage and storm protection systems
Environment Agency and local authority compliant Sustainable Urban Drainage Systems (SUDS)
If your property is at risk of flooding, you may be interested in our specialised storm and flood water drainage system.
For more information on any of our drainage systems and solutions, contact our team. We're available on 01225 430628.